Come visit us at Booth 603.
You can find AnimalBiome Veterinary AHVMA 2022 resources here.
When You Spend $500 or More
Come visit us at Booth 603 to place your order and pick up product in person!*
*while supplies last.
A 3-Step System For Treating Your Patients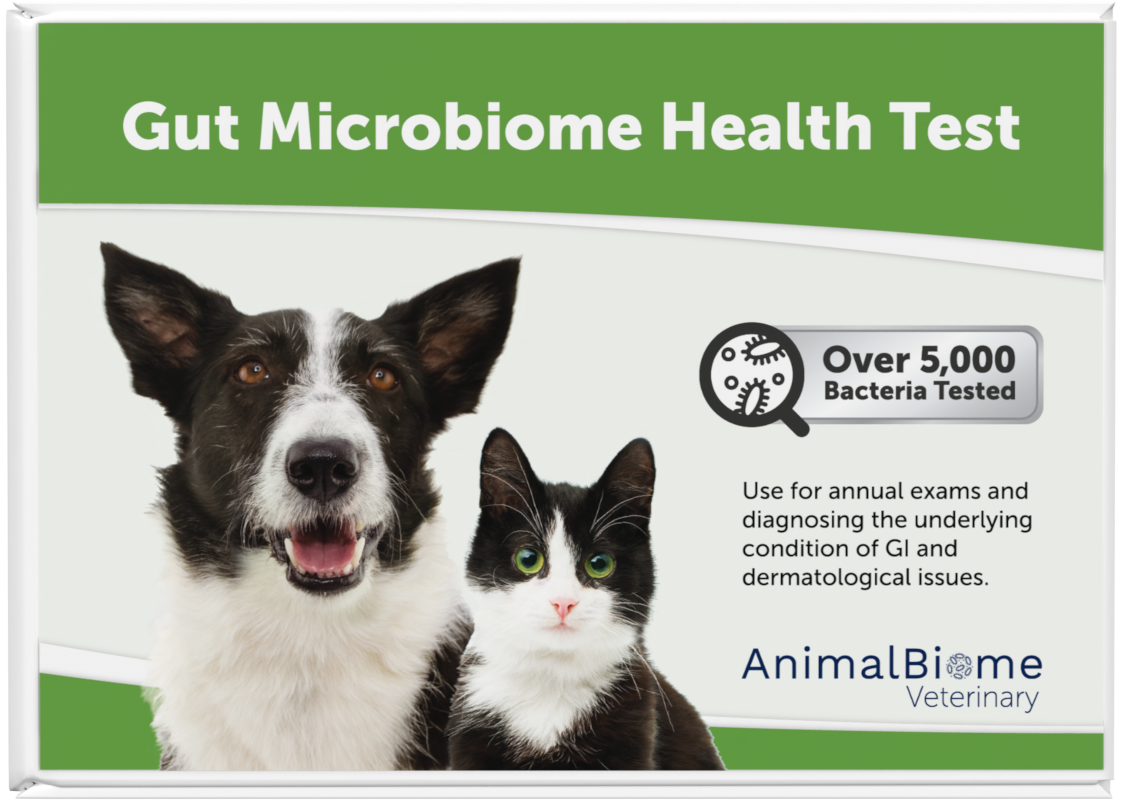 STEP 1: TEST
Administer a Gut Microbiome Health Test in-clinic to determine the underlying cause of the pet's symptoms.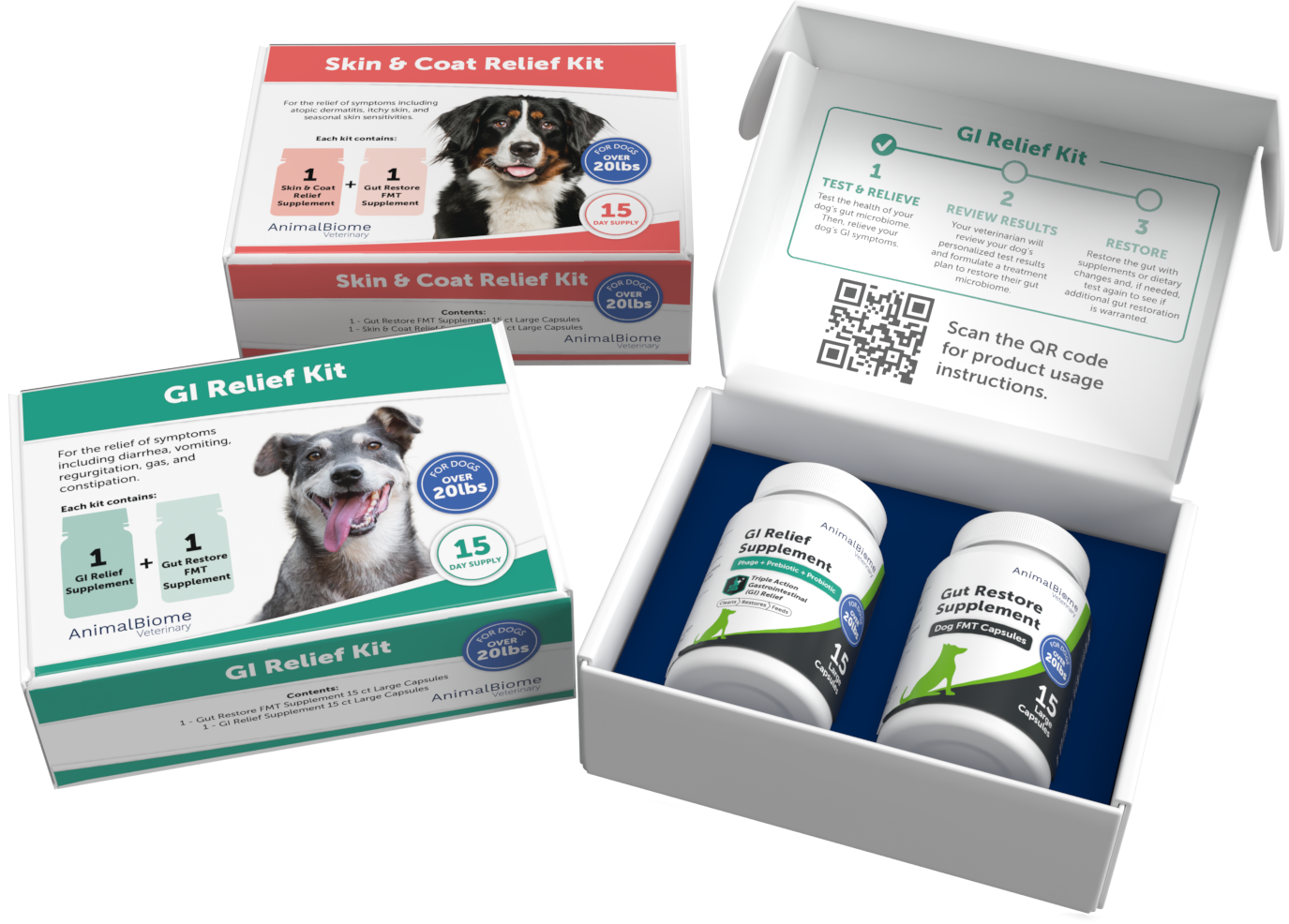 STEP 2: RELIEVE
Relieve the patient's symptoms while awaiting results from a Gut Microbiome Health Test (typically 10-15 days).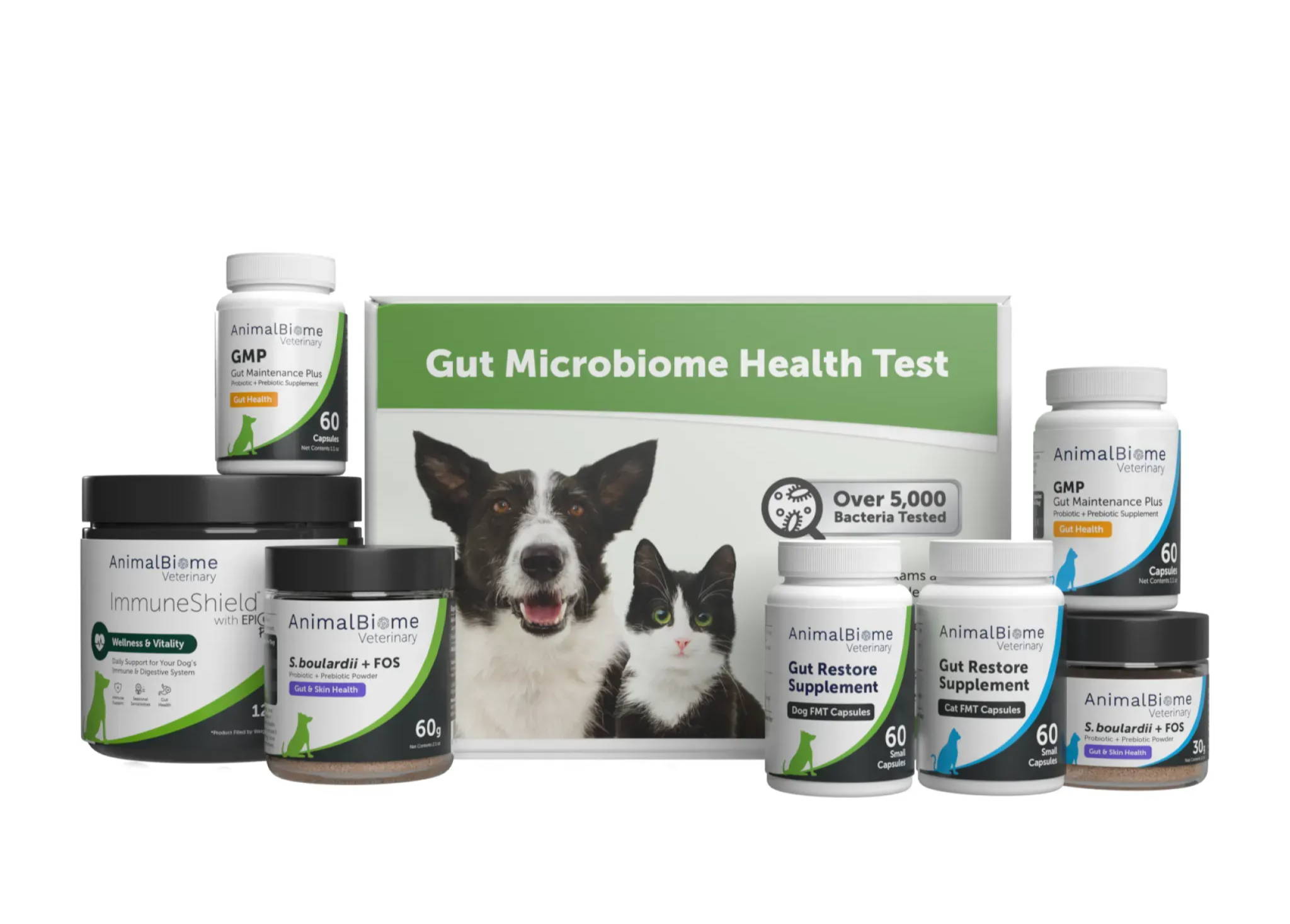 STEP 3: RESTORE
Create a gut restoration health plan for your patient using the Gut Microbiome Health Test results.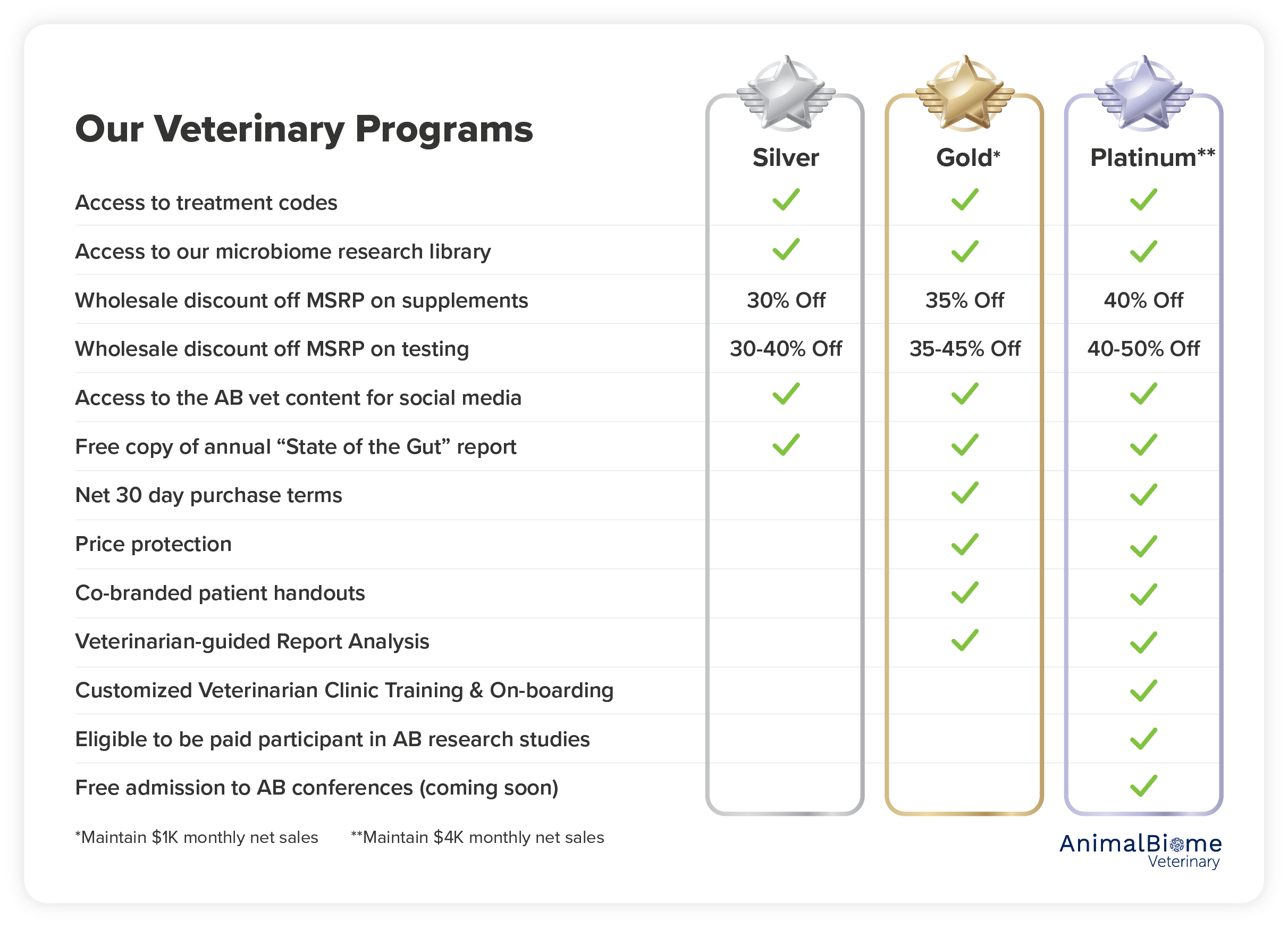 All veterinarians who were customers of AnimalBiome prior to December 31, 2021 will have Silver level privileges with 40% wholesale discount until December 31, 2023.
Efficacy Study: Gut Restoration Supplement (FMT Capsules) For Treating IBD Cases
Use of Gut Restore FMT Capsules on 72 cats and 40 dogs diagnosed (via ultrasound, endoscopy, or biopsy) or suspected inflammatory bowel disease (IBD) demonstrated positive results. A single 25-day course of 50 capsules of the FMT capsules led to 80% (32/40) dogs and 83% (60/72) cats with improvements in clinical signs associated with IBD.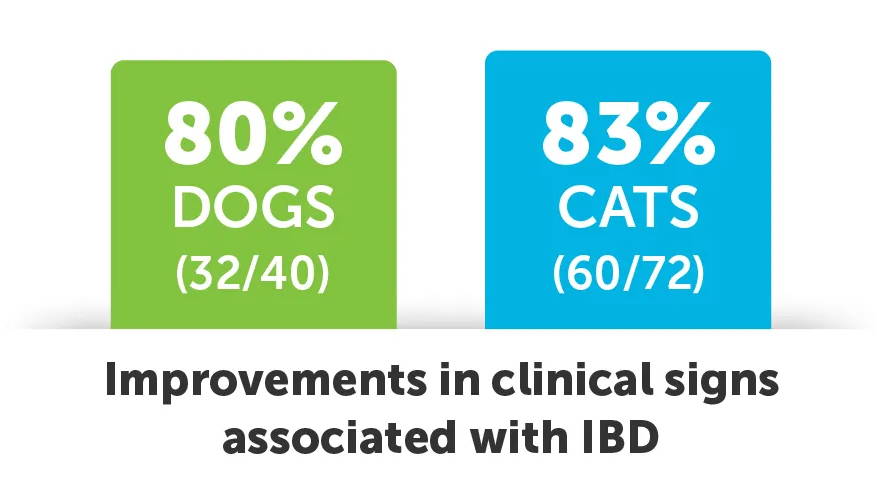 SmartBrief. (2019). THE PROMISE OF FECAL TRANSPLANTS: A microbiome solution for veterinary practitioners [White paper]. AnimalBiome.
FMT Capsules For Treating Canine Atopic Dermatitis
Given the role of the interaction between gut microbiome with dermatological diseases, namely "gut-skin axis", this study proved that gut restoration should alleviate canine atopic dermatitis (CAD).
A 4 week, open-label, non-controlled case series involved 8 -owned dogs with CAD which had received no previous treatment. All cases were monitored for 18 months after completion of treatment in which no recurrence of CAD was observed.
The study supports a potential benefit of FMT capsule treatment against CAD. This safe and tolerant treatment modality directed against CAD shifted the gut microbiome composition towards a healthy state for all 8 dogs enrolled.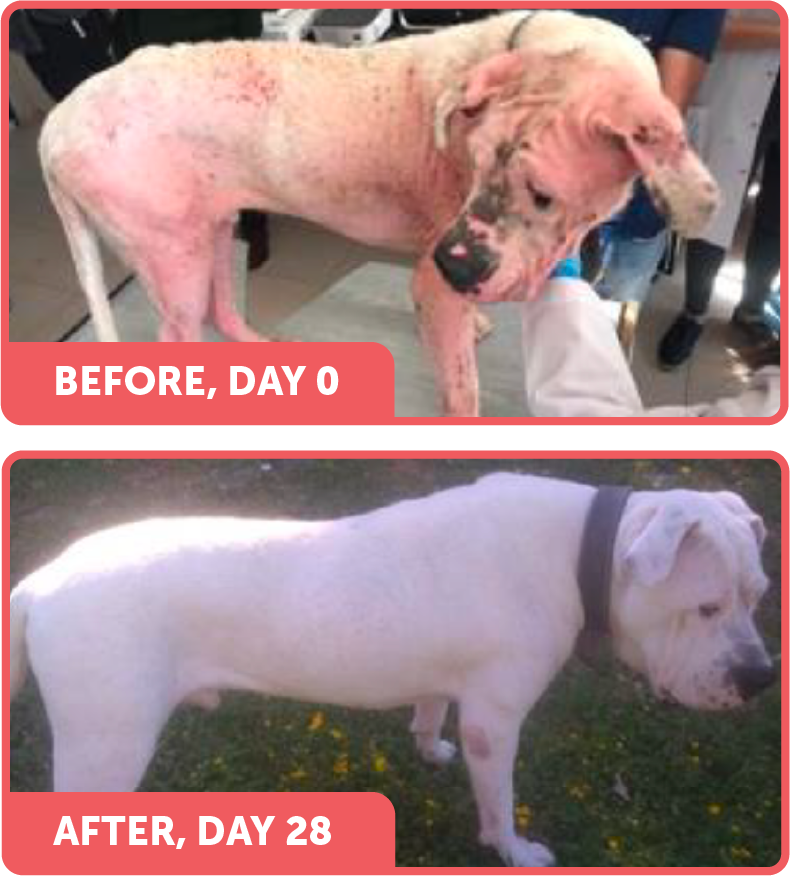 URAL, K. (2021). Fecal microbiota transplantation capsule therapy via oral route for combatting atopic dermatitis in dogs. Ankara Üniversitesi Veteriner Fakültesi Dergisi. https://doi.org/10.33988/auvfd.822971
---
---
This white paper discusses the promise of fecal transplants in veterinary practice. See our Research Library for more research papers on the gut microbiome.
---
Read about how we source and screen fecal material from donors for our Gut Restore Supplements and enema products.
---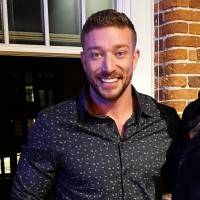 New to AnimalBiome Veterinary and want to get started?
Schedule an 15-30 minute introductory call with Brandon Burch to get acquainted with AnimalBiome Veterinary.
brandon@animalbiome.vet
Interested in a Lunch & Learn with AnimalBiome Veterinary?
Schedule a Lunch & Learn with Robin Saar to learn more about how microbiome science can help you improve patient outcomes and grow practice revenue.
robin.saar@animalbiome.vet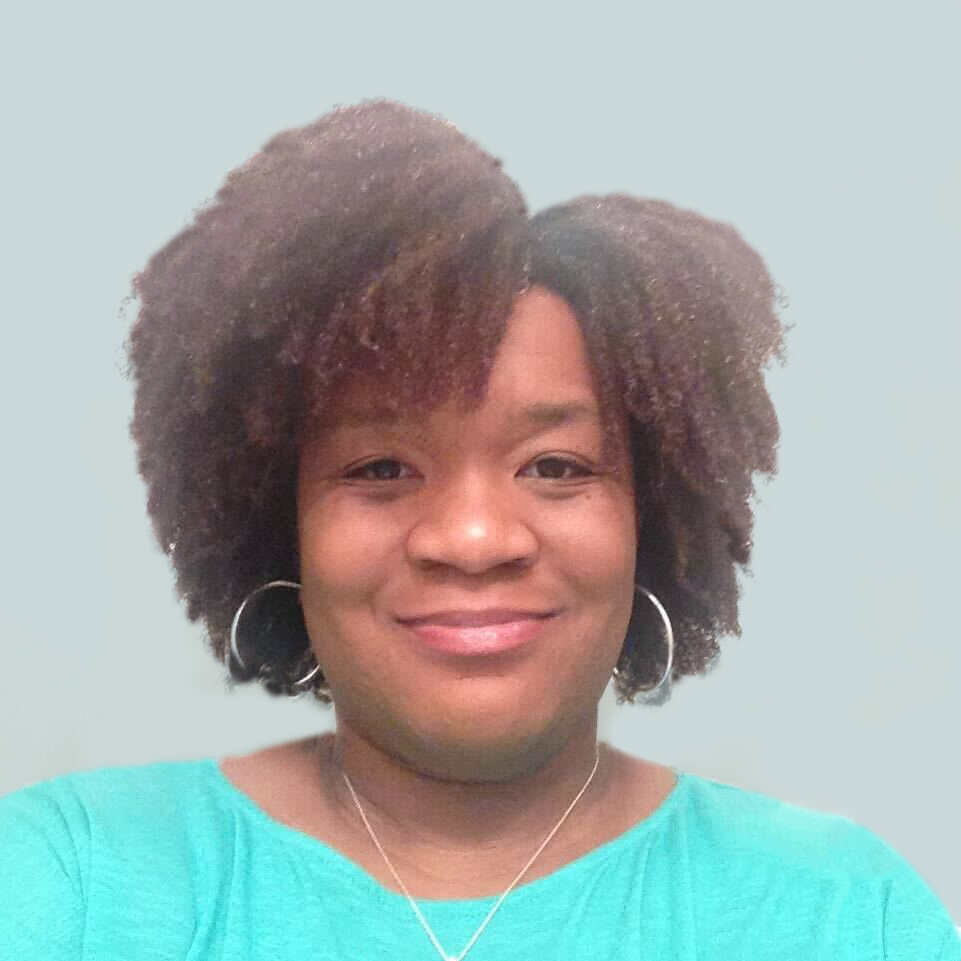 Interested in a DVM onboarding session?
Schedule on a 1:1 call with Dr. Tonya Cooksey, DVM for a deep dive into your patients' Microbiome Health Test reports.
tonya.cooksey@animalbiome.vet